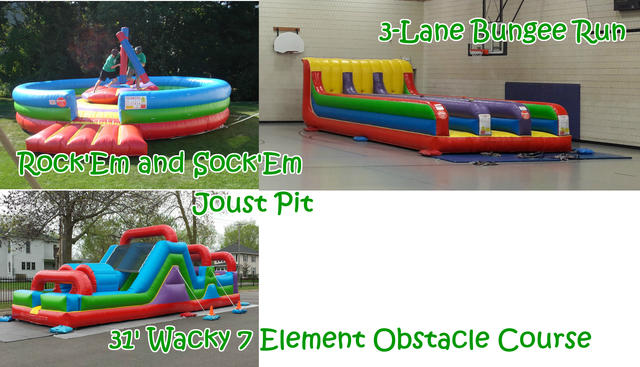 The BIG Froggy Package
Setup Area: A flat area with 6 feet of clearance by entrance,
exit, and overhead lines.
Outlets: Three electrical outlets required.
(Three 100 foot extension cords provided for FREE!)
Rental Rate: This price varies based on date of rental.




This Discounted Party Package comes complete with:
1 - Inflatable 3-Lane Bungee Run
1 - 31' Wacky 7 Element Obstacle Course
1 - Rock'Em and Sock'Em Joust Pit
Reserving these individual pieces would cost $993.00. Reserve this Package Deal online and SAVE $174.00!
Froggy Hops specializes in the organization of events of all sizes! We have tons of experience working with local schools, non-profits, and churches for carnivals, picnics, fundraisers, and more! We offer FREE delivery to most of the Twin Cities metro and FREE set-up and take-down (even indoors!). We encourage you to consider including Froggy Hops inflatables at your upcoming event! Customized quotes are FREE!
Features of the 31' Wacky 7-Element Obstacle Course:
Over 31 Feet of Obstacles
Colorful Wacky Design
Themed for Boys and Girls
Fit for Ages 2-102
Tunnels
Vertical Inflatable Pop-Ups
Multiple Squeeze-Plays
Climbing Walls
9' Tall Slides
Inflatable Safety Ramp Entrance
Inflatable Side Walls
Safety Netting on top of Slide
Heavy-Duty Climbing Grips
Non-Wax Slippery Slide Surface
Fast-Moving Lines
Combined Total Weight of Participants Not to Exceed 600 lbs
Features of the Inflatable 3-Lane Bungee Run:
Colorful Design for Boys and Girls
Recommended for ages 10 and older
3 Lanes for Maximum Participation
Vests to fit Various-Sized Participants
Easy-to-Operate Vests
Velcro Batons
Viewer Entertainment Included!
Combined Total Weight of Participants Not to Exceed 600 lbs
Features of the Rock'Em and Sock'Em Joust Pit:
Classic Colorful Design
Spacious for Full-Sized Participants - 25 Feet in Diameter
Inflatable Safety Ramp Entrance
Free-Floating Rocking Platform
Leather Headgear
6 Foot Long 100% Pure High Density Foam Filled Joust Poles
Circular Inflatable Safety Side Walls
Combined Total Weight of Participants Not to Exceed 400 lbs