Rock Em and Sock Em Joust Pit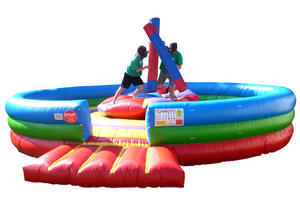 Setup Area: A flat area with 6 feet of clearance by entrance,
exit, and overhead lines.
Actual Size: 29'L x 25'W x 5'H
Outlets: One electrical outlet required.
(100 foot extension cord provided for FREE!)
Rental Rate: This price varies based on date of rental.
Description
Features of the Rock'Em and Sock'Em Joust Pit:
Classic Colorful Design
Spacious for Full-Sized Participants - 25 Feet in Diameter
Inflatable Safety Ramp Entrance
Free-Floating Rocking Platform
Leather Headgear
6 Foot Long 100% Pure High Density Foam Filled Joust Poles
Circular Inflatable Safety Side Walls
Combined Total Weight of Participants Not to Exceed 400 lbs
This popular gladiator-style joust pit brings a new level of competition in inflatable games! Perfect for graduation parties, fundraisers or corporate events, the inflatable jousting gives an opportunity for older kids and adults to join in on the fun! To prepare for the jousting game, two opponents put on their protective armour (a leather headgear helmet). The joust pit features an inflatable entrance ramp that makes entry into the arena safe and easy. Once in the pit, there is a free-floating rocking platform that heightens the jousting experience. Viewers get a good laugh just watching Participants try to balance on the platform! Once both Players are on the platform, the games can begin! The two opponents try to knock down their competition with the 6' long foam joust pole while trying to keep their balance at the same time. The joust poles are made of 100% pure high-density foam and wrapped in soft vinyl to provide a sturdy, but soft, impact. The jousting equipment is free from any rigid surfaces, providing a smooth and safe battle. Once an opponent falls into the inflatable pit, he or she is kept on the interior of the inflatable by the circular safety wall. At 25 feet in diameter, the pit has plenty of space for safe landing for even the tallest of competitors! The Rock'Em and Sock'Em Joust Pit provides hours of fun competition for the participants and the viewers!