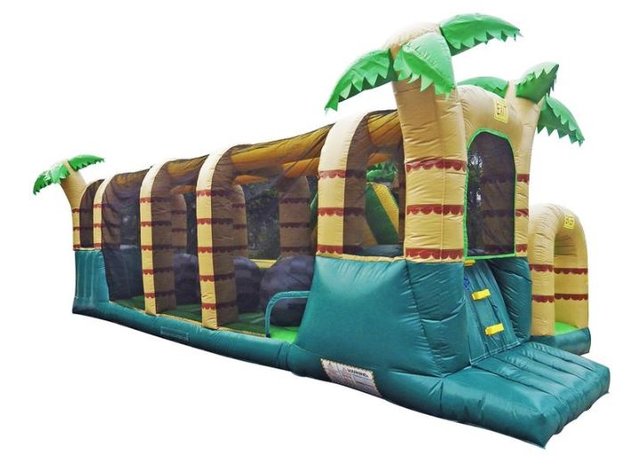 86' Hop N' Rock Tropical Obstacle Course
Actual Size: 38'L x 16'W x 14'H
Setup Area: For your children's safety, we require a 6 foot clearance around the entrance and exit & a 6 foot clearance from any overhead lines.
Outlets: 2 Electrical outlets required. Froggy Hops provides two 12 gauge outdoor extension cords (one for each blower) that are 100 feet long each. This is included for FREE with every inflatable rental!




Like the "Wipe Out" game as seen on TV? Try our Hop N' Rock Tropical Obstacle Course! Lasting a full 86 feet long, it is the ultimate challenge for your coordination and reflexes. Start with a wall climb and then hit the slide going down. At the bottom of the slide, Participants crash into several inflatable pop-ups that make even standing a challenge! Then brave through the horizontal shark-teeth. But it is not finished yet! Just ahead of Participants is a second climibing wall leading to the ultimate challenge of jmping through three giant Hop N' Rock inflatable balls. With the slippery vinyl surface and inflatable bounciness, it gives you no chance of staying still! Your instant body coordination and reflexes are the key to success! Can you make it across? Probably not.... at least not on your first try! But don't worry - The Wipe-Out style game is completely surrounded in safety netting and a soft inflatable floor for landing.
Features of the 86' Hop N' Rock Tropical Obstacle Course:
Over 86 Feet of Obstacles
Fun Tropical Design
Themed for Boys and Girls
Fit for Ages 3-102
Inflatable Wall Climb
10' Tall Slide
Vertical Inflatable Pop-Ups
Horizontal Inflatable Pop-Ups
Bonus 2nd Climbing Wall
3 Wipe-Out style GIANT inflatable balls
Side Windows with Safety Netting
Soft Inflatable Landing surrounding Hop N' Rock Balls
Safety Netting on top of Slide
Staggered Hand and Foot Climbing Grips
Rock-Wall Style Climbing
Non-Wax Slippery Slide Surface
Inflatable Safety Exit Ramp
Fast-Moving Lines
Combined Total Weight of Participants Not to Exceed 600 lbs