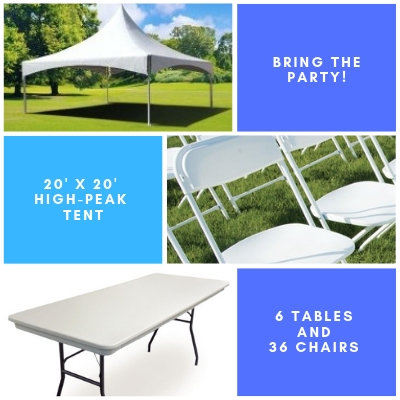 Bring the Party: A Full House Package
Setup Area: For safety, we require a 6 foot clearance around the entrance and exit & a 6 foot clearance from any overhead lines.




One-stop shopping with our Bring the Party Package Deals!
This Discounted Party Package Deal comes complete with:
1 - 20' x 20' High Peak Tent
6 - 6' Rectangular Banquet Tables
36 - Chairs
Reserve this Package Deal online and SAVE!
Features of 6' Lightweight Banquet Tables:
Seating for 6-8 Chairs
Neutral Gray Color
Lightweight
Easy Assembly
Setup Available
Features of Chairs:
Convenient and Easy Seating
Bright White Color
Lightweight
Setup Available
Features of 20' x 20' High Peak Tents:
Covered Space for Dinner Seating for 6-8 Tables and 48-52 Chairs
Covered Space for Approximately 64 Chairs
Bright Whtie Color
Open Center Area - No-Pole Center
Set-Up and Take-Down Included
Shade from Sun
Cover from Rain
Tent Walls Available
Suggest Lay-Outs Below
Table Lay-Out Suggestions: